I'm going to give you a spoiler: Yes, it was worth it.
For those of you who love headlines and Twitter with 140 characters, you can stop reading because I have just revealed the end and part of the content.
For those of you who want to read a little more, although you will probably end up regretting it, I will elaborate on the answer.
Prior to WordCamp
After attending WordCamp Santander in November last year, as a good little candy at the school's door, I got caught and I was eager to return. It seemed to me that April and Madrid were a good combination to repeat the experience and continue to hook me a little more, so I did not think about it and bought the ticket.
It wasn't many days before a new trip came up the same week as WordCamp and soon after I also realized that my goddaughter's birthday celebration was the Sunday of WordCamp…. but the occasion was worth the effort.
Traveling
On Wednesday 18 I left early for Coruña, flight to London and between transfers and waiting time I arrived at the Mondrian hotel around 8 pm (I mention the hotel because I will talk briefly about the experience later). The rest of the stay, the Sony World Photography Awards event, no longer make sense in this post about WordPress, so we're off to Madrid.
Friday after breakfast at the hotel at 8 o'clock, I pack my suitcase and leave for the airport that would take me to Madrid. Between flight, subway travel and an hour lost due to the time change, I arrive at the vicinity of the hostel at 7 pm without having eaten a bite, so I almost devour the food before arriving at the dreamed destination.
Open Source Hostel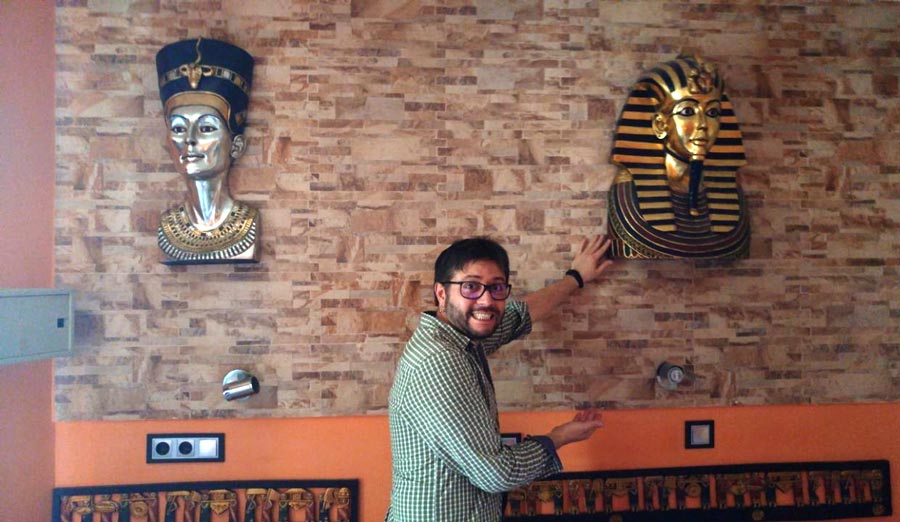 I had previously booked a stay with Wajari, José Luis, Lhosca, Jorge and Gerardo. And I arrive at Hostal Muñoz (oops, I think that page was not working properly, well, now it is already there), believe me I thought about putting the name, but as they promote Open Source so much they deserve to be in these lines and because it was part of the conversations of the Galicia group in the WordCamp, and even outside of it. But why do they promote Open Source?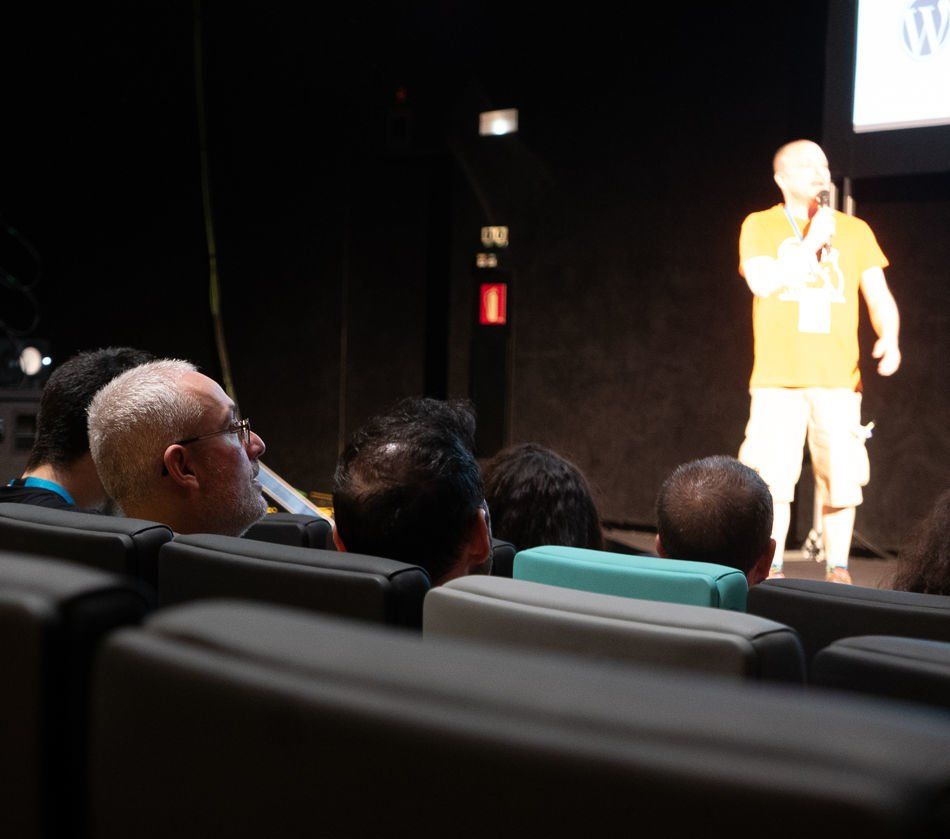 Because a room with three beds had 1 towel (little more than a bidet towel), if that is not openness and sharing….
Because the toilet in the room, literally, was separated by a curtain to encourage sharing, to bring… well, I don't know what, but it did bring us closer.
The bidet shared water on the floor of the room and the shower, well, if you touched the screen you could go over the other double bed available. This made teamwork a necessity, a great value.
It was also multicultural, you could admire an Egyptian sphinx as well as a boat with colored lights. Bringing diverse cultures together is another great value of the Open Source mentality, isn't it?
There are no closed licenses, no closed door, so when I was changing as soon as I arrived, the owner of the pension came into the room to accompany Lhosca (although he was actually on another floor), luckily he still had his pants on, but if we talk about Openwell, that's…
But the best thing, which unfortunately could not be enjoyed by those in the other room, was the light that could be regulated in different colors and even with a strobe rhythm. That really allowed you to make the software your own and adapt it to your needs at any given moment.
There were many other values of Open Source, but we will not detail them as we would not finish, although I will return briefly to the room on the way back. If I mentioned the London hotel before, it was to make the comparison now… a hundred thousand times better the Muñoz, an experience. so open will remember it for a long time to come, there is no color (just look at some of the photos or the video of the room, we will charge for broadcasting). Do I recommend the Hostal Muñoz? If you are very much of the Open Source philosophy… well, I refer you to the previous points.
Friday night
As Wajari and José Luis were volunteering at WordCamp Madrid, Lhosca, Gerardo, Jorge and I went out for a few beers while we waited to see if the WhatsApp Non-Speakers Dinner group would decide something for the evening. After some time it seemed that no agreement could be reached so we got in touch with Fernando and July we went to an intermediate point and went to have a drink and a snack (despite having just eaten) at the Mercado de San Antón, which has a name that is a bit Galician Wind.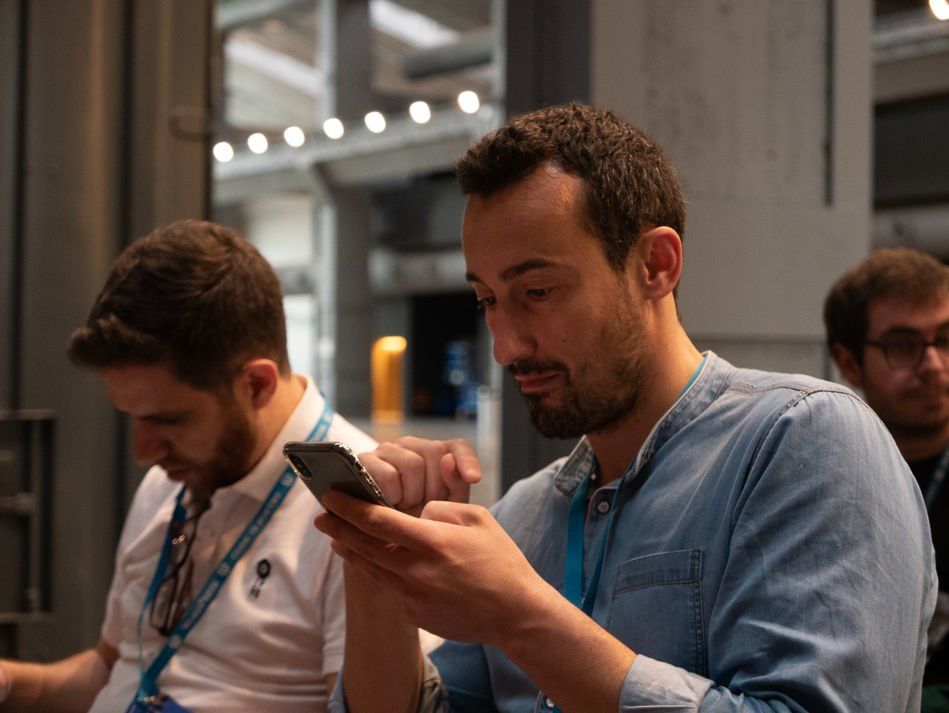 Between beers I discovered that Julio and I shared a passion for photography, it was a very nice time talking about photography, code, community and tapas (the waiter wanted to serve us a cachopo and red tuna as well as octopus a la gallega), but finally we agreed to refuse a little Galician with retranca. It was a magnificent evening for part of the Galician delegation.
Back to the Open Source hostel and there we met Wajari and José Luis, a few laughs and anecdotes to remember (what happens in the Muñoz stays in the Muñoz) and rest to face the day that would begin in a few hours.
WordCamp Madrid
Yes, you could have started reading around here and saved yourself all the previous crap, but now that you are….
We arrive at La Nave and Wajari hands me my accreditation as soon as I walk in the door, now that's efficiency. Early morning coffee which I appreciated more than anything else. I'm not talking about breakfast with fruit, churros, porras, pastries, etc., which is great, what I'm talking about is a first coffee before entering the talks, some of us arrive without having made previous stops.
I can't remember who I spoke to at any given time, whether it was at lunchtime, coffee break, in the afternoon, late afternoon, etc., but I do remember some of the people I had the pleasure of chatting with for a while. On this occasion I had the pleasure of meeting and chatting with Fernando Puente, as I imagined, a delight and a real crack and reference in cache and many other topics, I think I could be listening to Fernando all day without getting tired.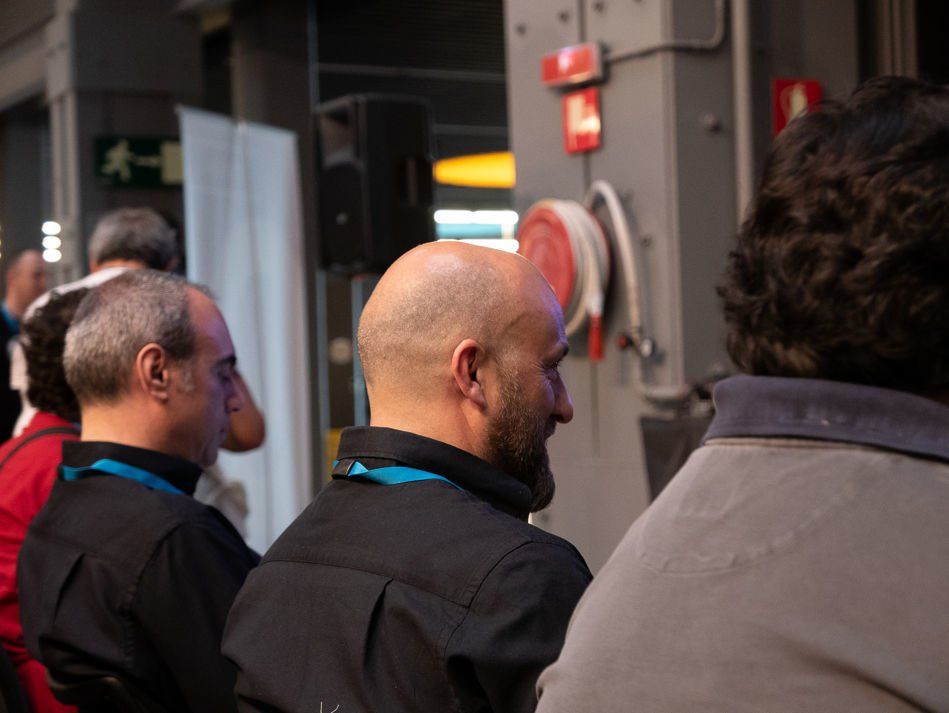 The same with Fernando Tellado, whom I already had the pleasure of knowing, but every occasion is too little to learn from his immense knowledge.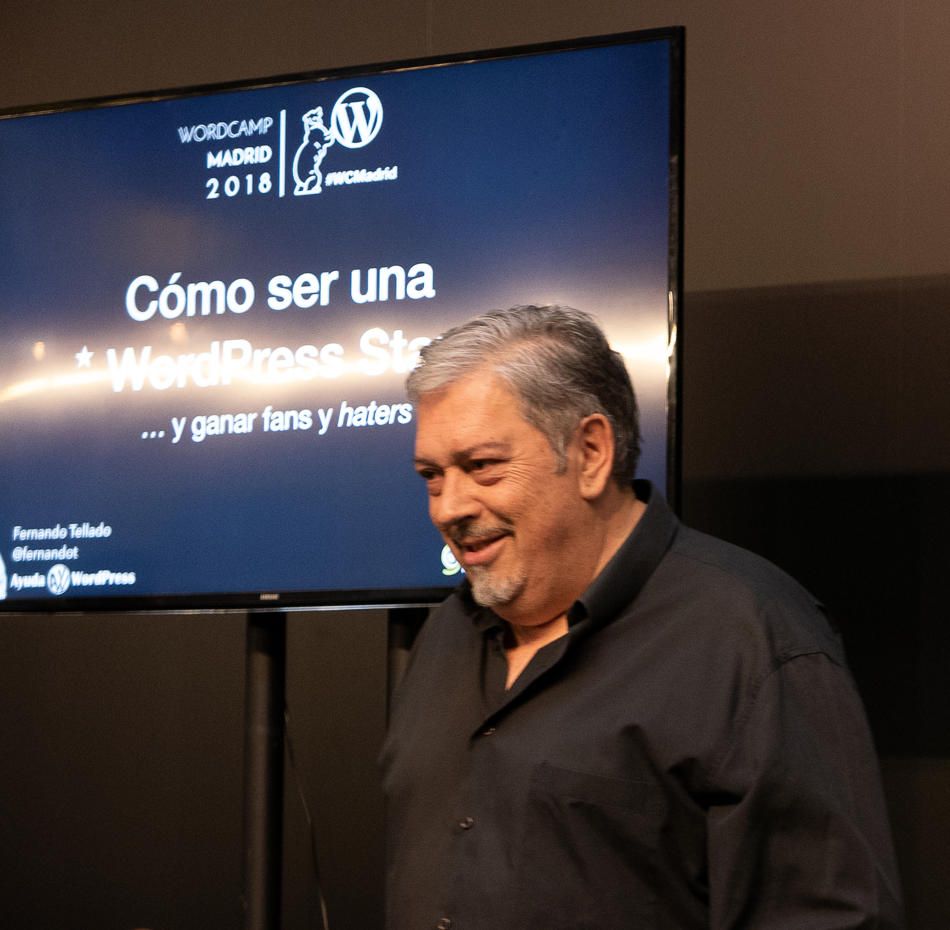 I was also chatting with Angel G. Zinsel who gave me some great tips for when I'm ready to make the leap from Meetup talk to WordCamp (someday, maybe).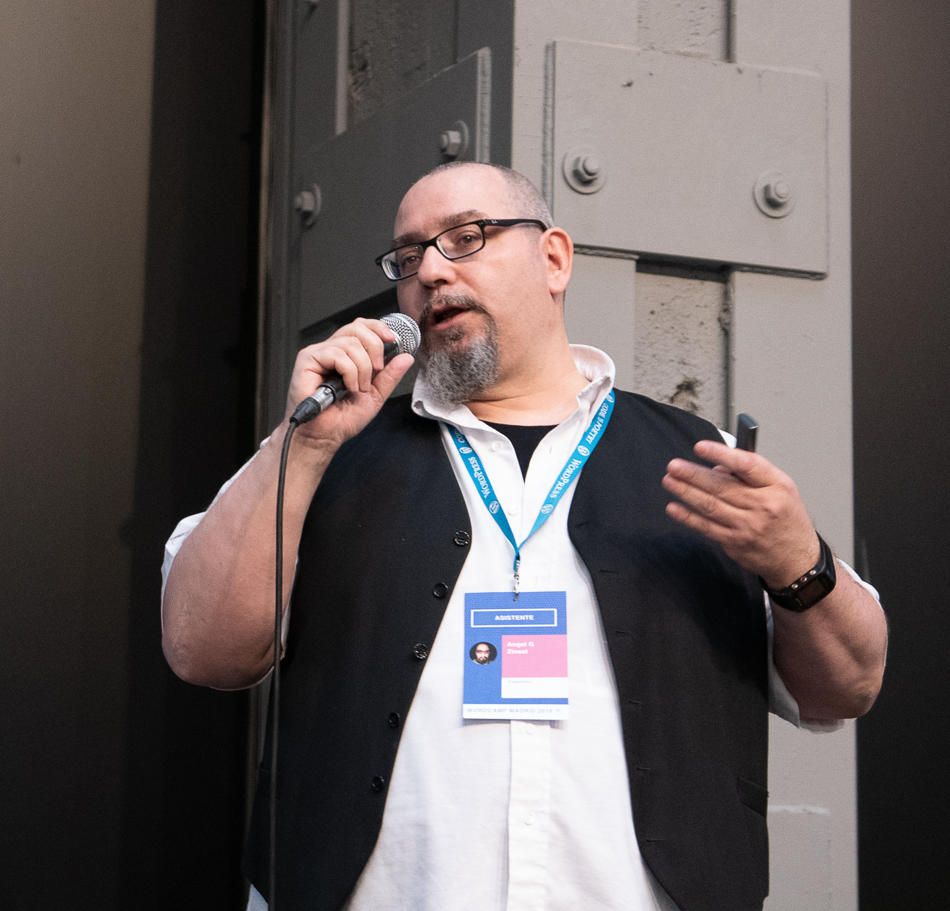 The same with Ibon Azkoitia, Moncho, Ana Cirujano, Rocío Valdivia, Pablo Moratinos (with whom I was also talking about photography), Juan Hernando. and so many others with whom I had the pleasure and good fortune to share a little chat, excuse me all those I do not remember, but a whole day of networking gives for many and very pleasant conversations and the problem of naming some, are all those who are left in the ink. A hug to all.
The talks
As you know there were no less than three tracks. I wish I could have the gift of being able to unfold and have attended all of them, but I had to choose and in some of them with great doubts, but I have the consolation that I will be able to see the others on WordPress TV.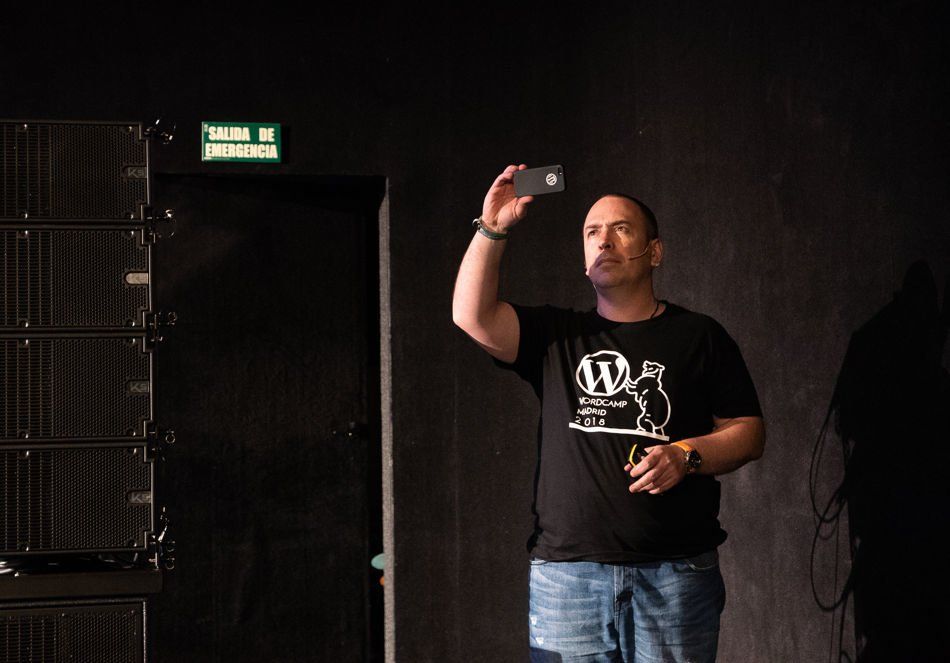 I am going to tell you very briefly about the ones I attended: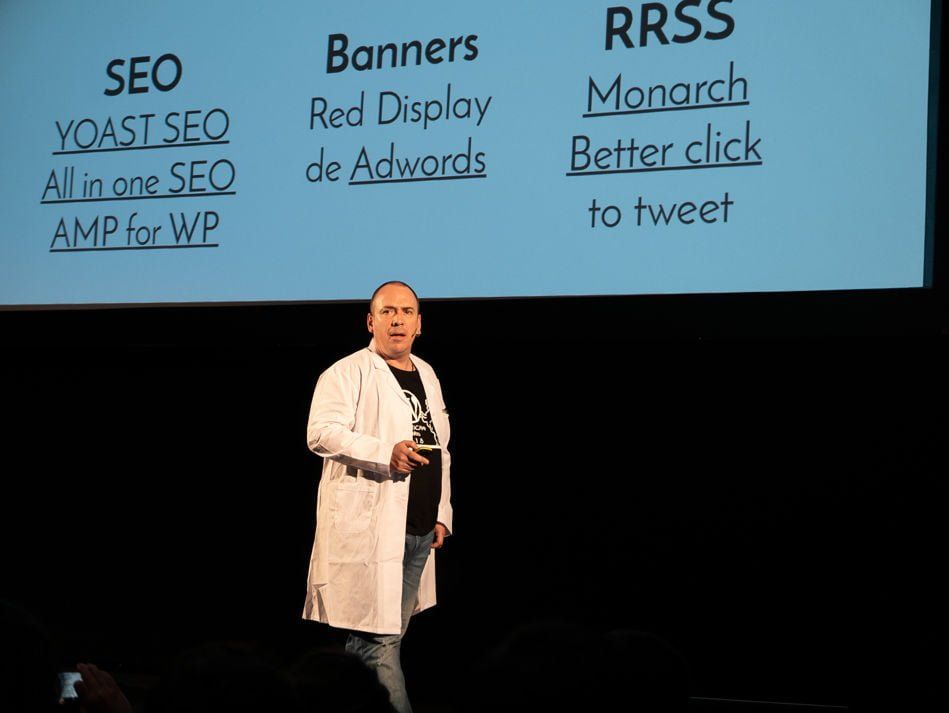 The round table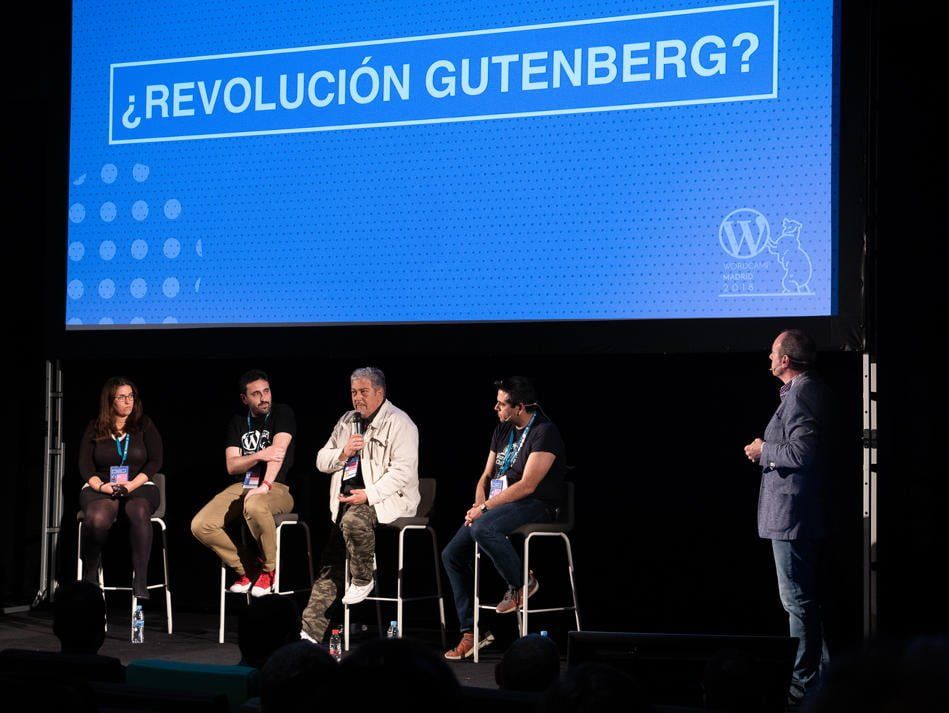 After the talks, the round table began, and if the talks were ten out of ten, I'm running out of points here. As panelists were Rafael Poveda, Juan Hernando García, Fernando Tellado and Rocío Valdivia, magnificently directed and moderated by Fernando Puente who, without cracking the whip, managed to moderate these four axes of the WordPress world (although at times it was difficult to control them).
The topics treated with controversy, different points of view, humor, great talk show hosts and a common background. We talked about Gutenberg, about Uncle Matt, about… too long if we don't want to make this entry too long.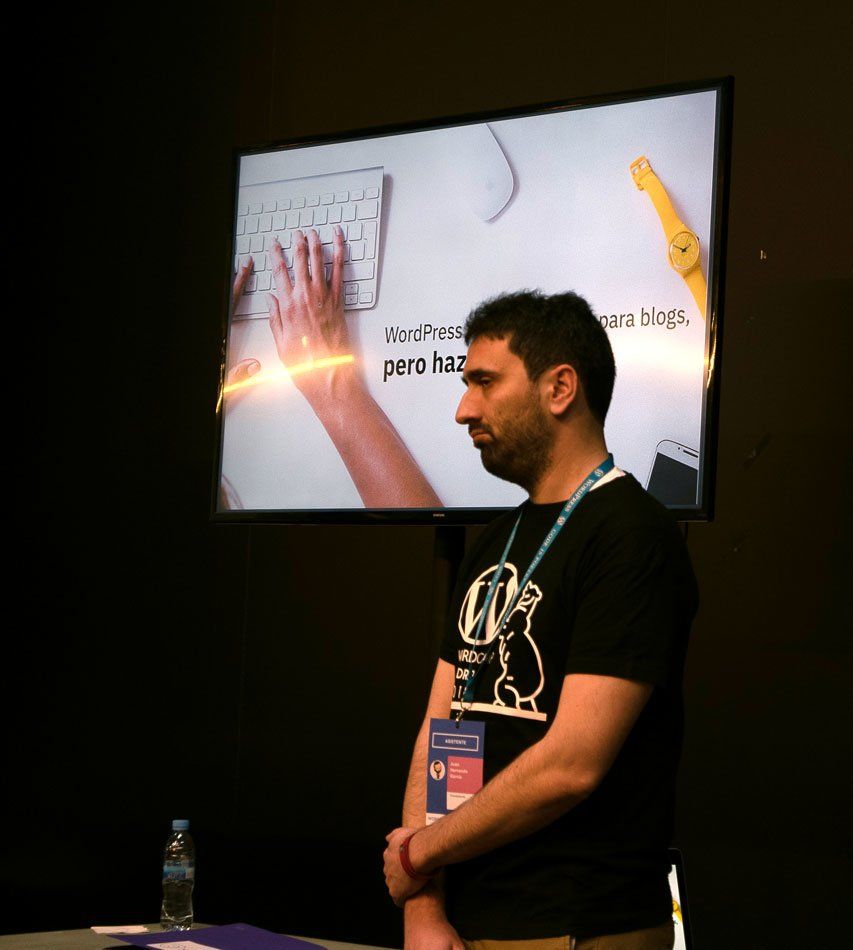 Too many WordCamps? Well, to bring it to Galicia as an example, I do not see a WC in Lugo and another one in Santiago, Coruña… for me it does not make sense, let's do pineapple and let's create a big one… but from there to one in Madrid and another one in Barcelona? there are people who could never go to a WP due to distance, stay and other expenses, let's be realistic, in the end attending a WordCamp means an economic effort, time of work stopped… let's put it in its right measure.
I recommend you to watch the round table, perhaps the best of the day, a format that must be repeated, take note WCs organizers, and directing/moderating it as masterfully as Fernando has done it is a real luxury.
Lunch and networking
Let's start with the aforementioned coffee: De Lujo, I can't tell you how many I had throughout the day, but there were a few and it was delicious. The organization of the meal was very fast and effective despite the fact that there were more than 400 people.
There was no shortage of sweets, pastries and chocolate with churros, coffee throughout the day as well as water, soft drinks and fruit throughout the day.
Networking moments are another of the great attractions of a WordCamp, you can chat with acquaintances, meet new friends, visit and talk with sponsors…
I believe that in the food section the maximum score has again been obtained.
After party
It was a success to have the after party in the same place, La Nave, the people were very lively, very relaxed atmosphere, good networking with excellent beer (craft beer from Madrid), what more could you ask for, yes, that I didn't have to leave that night. Still I squeezed the time to the limit and left La Nave around ten o'clock, already picking up at the WordCamp and I hurried to retrieve the suitcase at the guesthouse.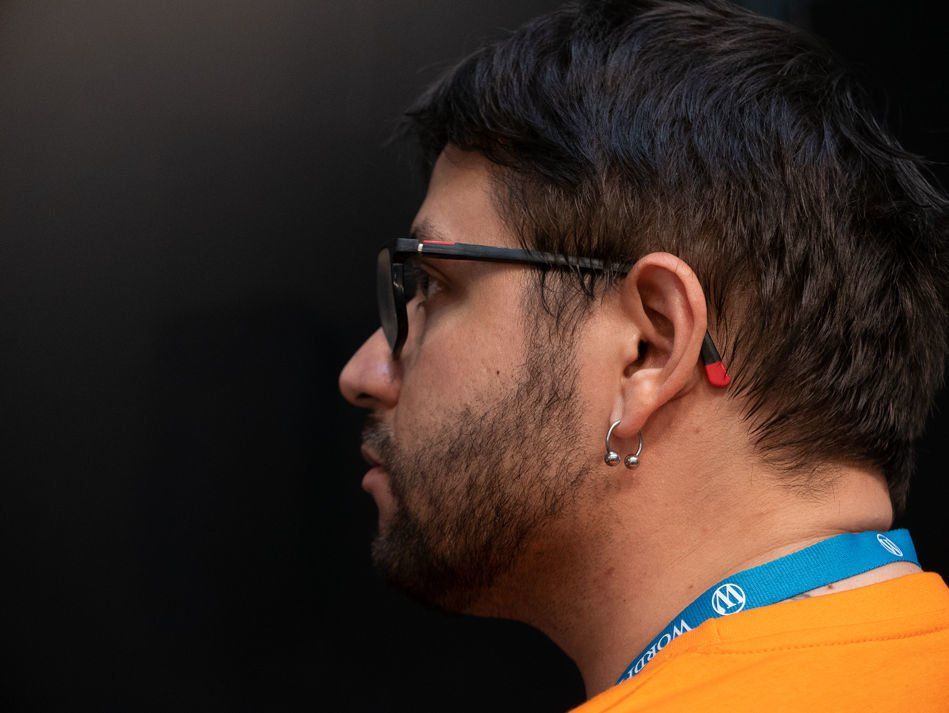 The return
Arrival at the guesthouse with Jorge who would return later with the keys since at night they disconnected the biometric facial recognition system, for those who are not so geeky, you had to enter with the key (they disconnected the timer) and there was only one set. Cab to the South bus station with some traffic jam on the way, something would influence soccer, with what I like, I did not even know who was playing…
My return was to A Coruña at 12:30 at night and at the next dock there was the bus going to Lugo and I met a guy with a t-shirt of one of the sponsors of the WordCamp Madrid. I start talking to him and it turns out that he was on his way back to Lugo (obviously by bus), we start talking about the WC and he asks me if I was in the pension with the colored lights and built-in WC (this WC is not the acronym for WordCamp). Unbelievable, I already told you that the pension issue gave a lot to talk about and there is no one who can pay for it.
Impressions
This time it was impossible for me to attend the Contributor Day and I had great expectations for that day, but there are obligations. I have heard that it has been an excellent Contributor with about 120 people, the forums are clean of pending posts and the translations are increasing at a good pace…. well, let's hope that for the next one it will be possible.
I know this entry has been extremely long, if I were to write all my impressions here I would need at least three times as much space. It's been a little over a day, but it feels like a week.
It's like coming out of a WordCamp and being hungry for another one, although in my case I have to rationalize and I hope it will be the one in Pontevedra. The organization and volunteers of this WC have been superlative.
I hope to leave even more euphoric in the first WC of my land, the organizers of the WC Pontevedra have been taking note and I'm sure they will reproduce all the virtues of Madrid and if they can improve any minimum failure they have seen, so far some have already promised me a stay similar to the Muñoz but in Pontevedra, so things are promising 🙂
P.S. writing this "tocho" has reminded me that it is unforgivable to have a "Blog" and not write in it for four months, I can not promise anything because I still have many pending projects, but I promise to try to be something more frequent.
P.P.S. I had already warned in the first sentence, if you stayed there it would have been much better 🙂